Testosterone Replacement Therapy in Bend & Springfield, OR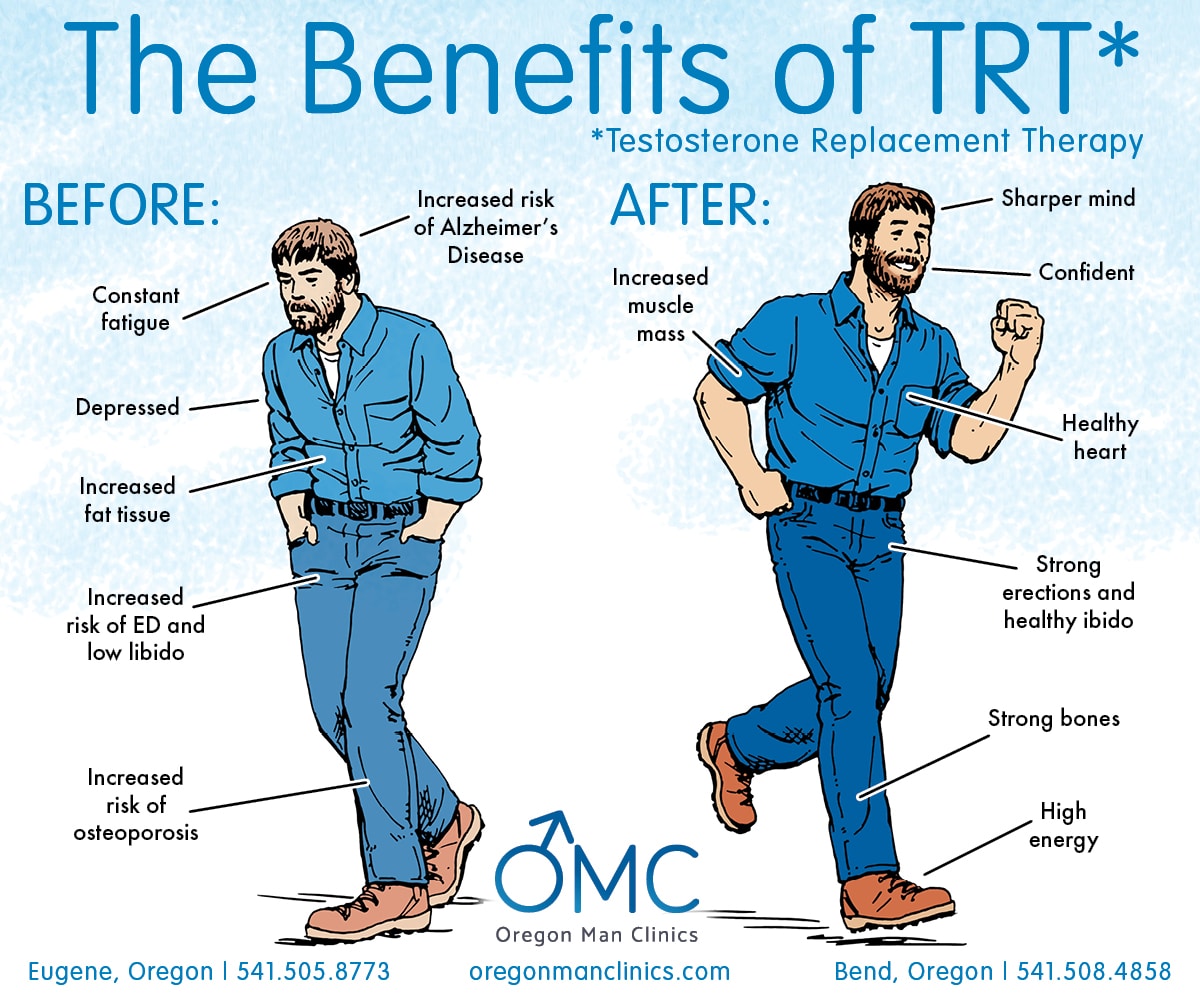 Testosterone is a hormone which plays a large part in the overall function of the body. It is the hormone behind the driving forces in men's motivations, desires, goals, muscle and bone strength, libido, personality, mental focus, and so much more. The common belief that testosterone is behind aggressive behavior is false. In fact, a balanced testosterone level helps men deal with stressful situations more easily and improves moodiness.
Balanced levels also enhance male personalities. Testosterone levels can dip for several reasons. Low testosterone levels, or Low T, can be the result of many causes. Obesity, stress, chronic illness, and even normal aging can all be contributing factors to low testosterone.
Testosterone Replacement Therapy, or TRT, addresses low levels by supplementing testosterone through the administration of an injection. While it is important to address and solve the underlying causes of low testosterone levels with your healthcare provider, Testosterone Replacement Therapy will help maintain balanced testosterone levels to ensure a balanced life. At OMC in Bend OR and Springfield OR, we have years of experience in advanced endocrinology focusing on testosterone replacement therapy. This understanding of the treatment process will help create the right plan for every patient of ours.
What to Expect from Testosterone Replacement Therapy
Many men have been told Testosterone Replacement Therapy is an easy and simple process however, an effective treatment plan is more complex than just replacing testosterone. Hormones have complex interactions with the body and changing one hormone level can have a domino effect on all other hormonal levels and interactions within the body. To ensure safety, we analyze endocrine and metabolic functions to ensure TRT is effective and safe. We pride ourselves in providing the highest quality treatment plan through testosterone replacement therapy, controlling estrogen levels, preserving fertility, supporting growth hormones, and more.
Testosterone can improve or detract from one's quality of life. Our goal, as medical providers, is to improve quality of life by creating an individualized plan to manage hormone levels while treating the cause of low testosterone levels. Because we focus on men's health, we are uniquely situated to treat a variety of men's health issues that can be caused or affected by low testosterone.
Testosterone Replacement Therapy typically - but not always - requires weekly testosterone injections and ancillary medication. Medications may include an Aromatase Inhibitor, which reduces the ability to convert testosterone to estrogen. When TRT is used in conjunction with managing the cause of low testosterone levels, the achievement of health potential and goals are maximized. TRT is associated with some risks; however, administration through injection, proper medication regimens, and routine quarterly labs help ensure a safe and effective process of resuming vitality. Several Harvard studies have found when TRT is administered correctly it reduces prostate problems, improves heart health, increases quality of life, and can prolong mortality. At OMC, we provide patients with tailored Testosterone Replacement Therapy programs to ensure the highest quality of treatment.
Who is an Ideal Candidate for Testosterone Replacement Therapy?
Men with low testosterone (hypogonadism) often experience low libido, difficulty attaining or maintaining an erection, poor energy, difficulty sleeping, mood swings and irritability, loss of muscle mass and weight gain among other symptoms. Treatment with testosterone, especially when combined with regular exercise and a healthy diet, can often improve these symptoms.
The symptoms of low testosterone are non-specific, however, and other potential causes should be explored by a qualified and experienced physician.
The ideal candidate for TRT is a man who, despite making serious efforts at improving his diet and exercise, lowering his body fat levels, and getting adequate sleep continues to have a low level of testosterone documented on a blood test and some or all of the symptoms mentioned above.
Many physicians use the ADAM Questionnaire as a screen for men who have low testosterone:
Do you have a decrease in libido (sex drive)?
Do you have a lack of energy?
Do you have a decrease in strength and/or endurance?
Have you lost height?
Have you noticed a decreased "enjoyment of life"?
Are you sad and/or grumpy?
Are your erections less strong?
Have you noticed a recent deterioration in your ability to play sports?
Are you falling asleep after dinner?
Has there been a recent deterioration in your work performance?
Affirmative answers to questions 1-7, or to any other 3 questions, provide a positive result on the ADAM questionnaire.
Oregon Man Clinics (OMC) proudly provides patients from Springfield OR, Bend OR and surrounding areas with Testosterone Replacement Therapy (TRT). Contact our Springfield office at 541.508.4858 or our Bend office at  541.505.8773 to schedule an appointment today.