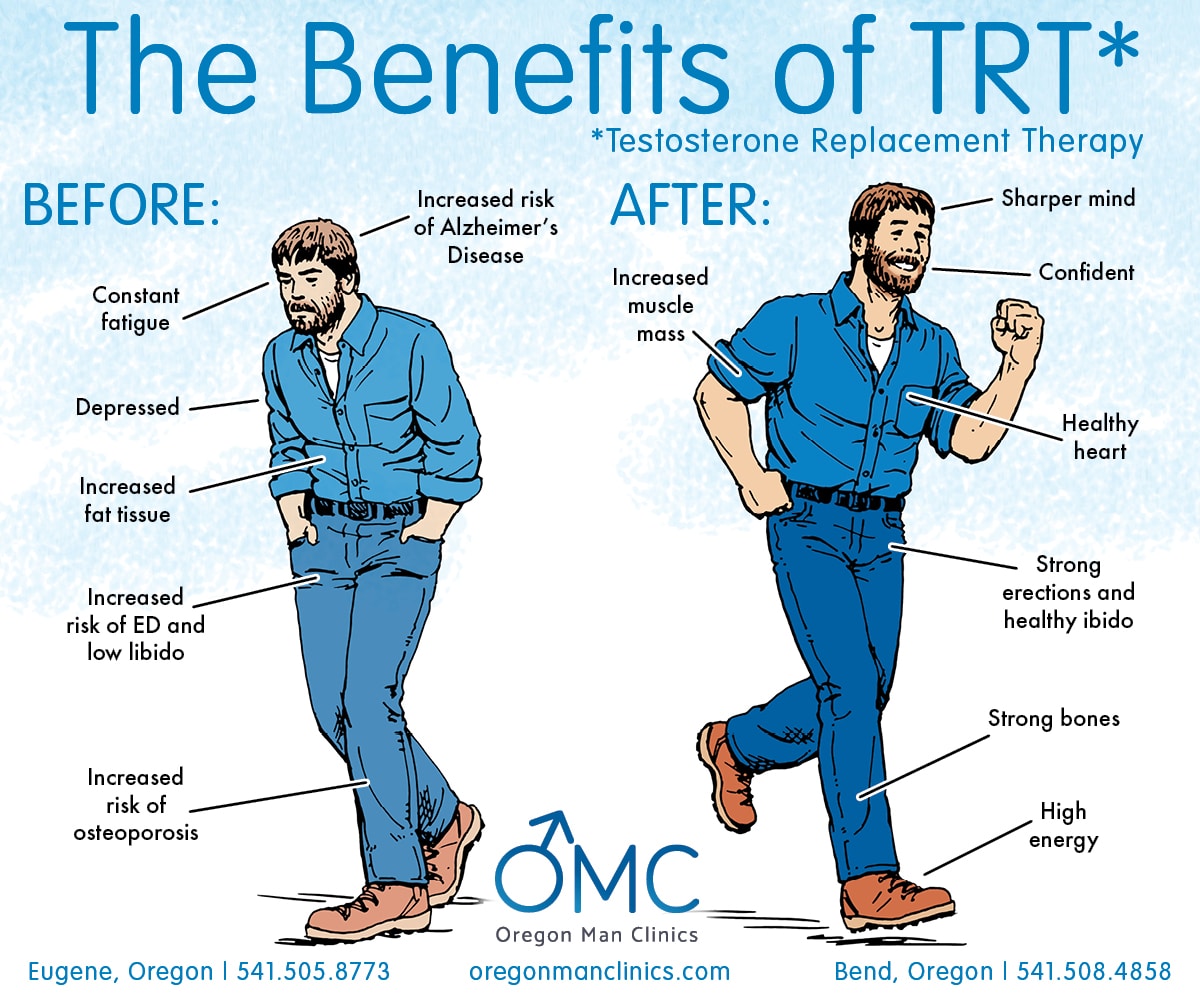 Your family doctor drew some blood and sent it to the lab to have your total testosterone level measured but the results came back normal. What's going on here?
After all, you saw your doctor because you have the classic symptoms and signs of low testosterone: your sex drive is nowhere to be seen, you're tired all the time, lately it seems your beard is just not growing like it should and you're not sure, but you think you are beginning to lose some of your body hair.
On top of that, you've put on weight and just don't seem to have the physical strength or endurance you used to have. Plus your mood is not the best either, as you've been feeling down for a while and just can't seem to focus.
For many men, total testosterone levels don't tell the whole story. This is because total testosterone levels are measuring two different things, the amount of testosterone you have in your blood that is bound to proteins, plus the amount that is unbound or freely circulating.
The amount of free testosterone, or free T as it's called, is important because it's the free T, and to a lesser extent, the T that is bound to albumin, that is bioavailable and able to do its job. These critical functions include regulating your sex drive, your body fat distribution, protecting your bone and muscle mass, and ensuring the production of sperm as well as red blood cells.
The remainder of your testosterone is bound to a hormone called Sex Hormone Binding Globulin or SHBG for short, which is made in the liver. For some men, the more their SHBG level is elevated, the less free testosterone they have and the more likely they are to begin showing signs and symptoms of low T.
Elevated levels of SHBG can be caused by such medical conditions as hepatitis (inflammation of the liver), hyperthyroidism (overactive thyroid gland) and HIV. Other reasons for an elevated level of SHBG can be due to certain medications such as some anticonvulsants (seizure medication) as well as some antidepressants (SSRIs), blood pressure and diabetes medications among others.
So it makes sense that for these men, low testosterone treatment is aimed at reducing SHBG levels which can be accomplished by treating any underlying medical conditions, implementing lifestyle changes such as lowering alcohol consumption, stopping smoking and dietary changes, plus the elimination of any medications that are likely to be causing elevated SHBG levels. In addition, testosterone replacement therapy (TRT) works to overcome the testosterone binding and makes more free testosterone available to the body.
Another promising low testosterone treatment is supplementation with the micronutrient boron, a trace mineral that has multiple important roles in human health and metabolism, including the production and metabolism of testosterone. Boron has been found to specifically increase the production of free testosterone.
For men who have all the signs and symptoms of low testosterone, but whose total testosterone levels come back normal, further investigation may well reveal that elevated levels of SHBG are to blame. Fortunately, there are safe and effective treatments for this condition that will have you feeling like a new man.
Here at Oregon Man Clinics in Bend OR and Eugene OR, we are dedicated to helping men just like you reclaim your vitality, strength and edge, so you can enjoy the quality of life you so richly deserve. Book your appointment today.
---
References:
Rastrelli G., Corona G., Maggi M. Testosterone and sexual function in men. Maturitas. 2018;112:46–52.
Livingston M, Kalansooriya A, Hartland AJ, Ramachandran S, Heald A. Serum testosterone levels in male hypogonadism: Why and when to check-A review. Int J Clin Pract. 2017;71(11):e12995. doi:10.1111/ijcp.12995
Svalheim S, Sveberg L, Mochol M, Tauboll E. Interactions between antiepileptic drugs and hormones. Seizure . 2015;28:12–7.
Pizzorno L. Nothing Boring About Boron. Integr Med (Encinitas). 2015;14(4):35‐48.
Naghii MR, Mofid M, Asgari AR, Hedayati M, Daneshpour MS. Comparative effects of daily and weekly boron supplementation on plasma steroid hormones and proinflammatory cytokines. J Trace Elem Med Biol. 2011;25:54–8.